aibo AI Cloud Plan
The first chapter of
your aibo story
With the aibo AI Cloud Plan, you get the essentials of the whole experience: name your aibo, watch your aibo grow, and communicate with your aibo via a special app.
You'll need aibo AI Cloud Plan subscription to begin your aibo journey—and it's definitely worth it.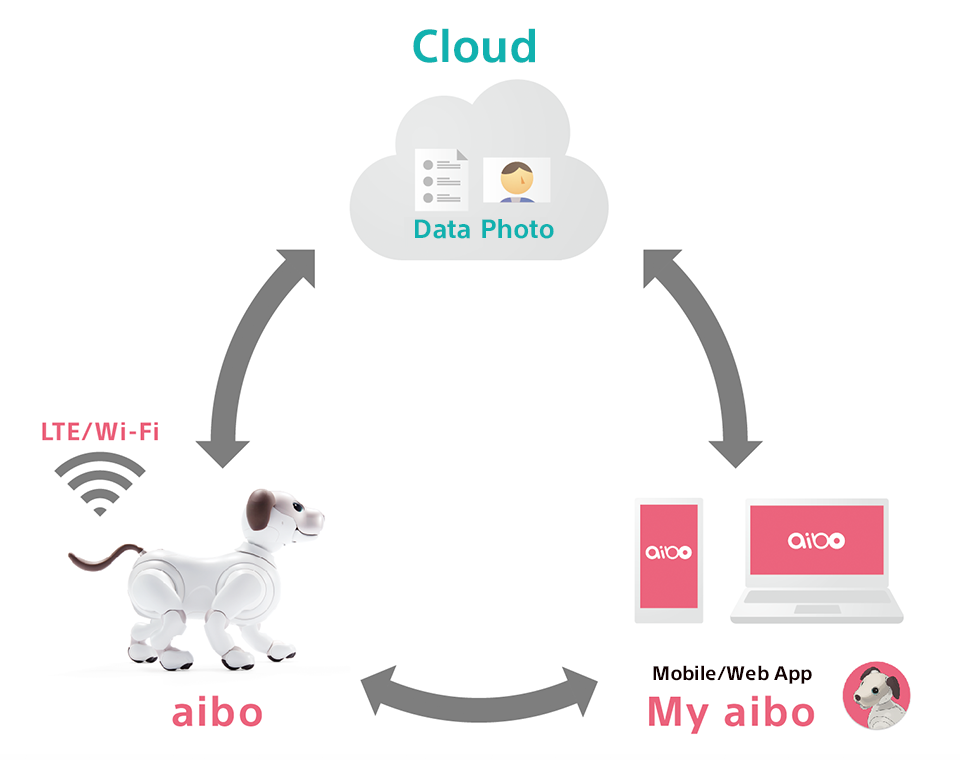 The aibo AI Cloud Plan is a cloud service that enables your aibo to connect with a dedicated server for data-exchange purposes, store its memories of things that it's seen and heard, and develop its unique personality. When you're an AI Cloud Plan subscriber, you can upload information from your aibo to the cloud—including data and photos—and use the app to communicate with aibo.

The aibo AI Cloud Plan also includes mobile connection service, which keeps your aibo connected to the server when you don't have Wi-Fi access or you're out of the house—without incurring any additional data charges.

With the 3-year aibo AI Cloud Plan*, you get access to something extraordinary: a story to weave together with your aibo, who constantly grows and develops into a one-of-a-kind partner to share life with.

*Your aibo robotic dog includes 3 years of Cloud and Wireless Services that starts from date of shipment and is necessary to take advantage of aibo's full functionality and learning capabilities.
What can you do with
an aibo AI Cloud Plan?
Communicate with

your aibo

Name your aibo, teach it tricks, and interact via the special "My aibo" app.

aibo will

learn and develop

aibo remembers people's faces, interactions, experiences, and environmental features to form deeper bonds with others, embody a richer personality, adopt new movement dynamics, and adapt to living spaces.

Browse your

aibo's photos

Check out the your aibo's photos of its day-to-day experiences via the special aibo app and download images to your devices.

Monitor your aibo's wellbeing

/environmental settings

Check any changes of aibo's body/feeling and get the latest system updates automatically.

Back up your aibo's data

Automatically back up your aibo's data in the cloud, giving you the ability to pick up right where things left off if you ever need to replace your aibo with a new one.
More about the aibo AI Cloud Plan
The aibo AI Cloud Plan is a three-year usage agreement comprising cloud service and mobile communications service.
An aibo AI Cloud Plan subscription is required in order to enjoy all the features of an aibo.
Fees paid are non-refundable, regardless of the reason.
A user's aibo AI Cloud Plan goes into effect on the day on which the aibo is shipped.
The aibo SIM card can only be used with an aibo product.
More about the Cloud Service
A user can store up to 500 images in the cloud (as of August 2018). Should a user exceed that limit, images will be automatically deleted by upload date (oldest images first).